Zillya! Antivirus for Business
Total protection of organizations against all types of cyber threats with possibility of centralized management of antivirus software.
30 days trial period available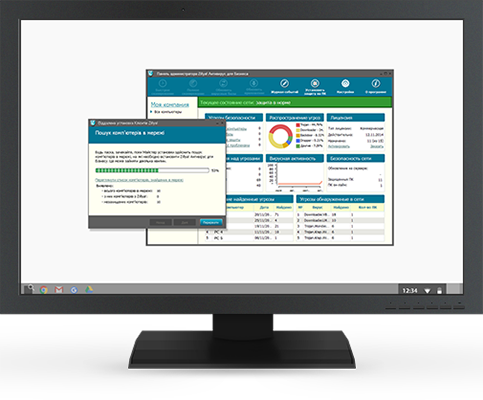 Admin panel – central management of all client sides and settings of Antivirus server.
Allows to adjust the setting and monitoring of the system of anti-virus protection of entire system of cyber security of the company and local PCs. This component is a coordinating hub of corporate informational security system, based on Zillya! Antivirus for Business.
Antivirus server – a program that brings together all client sides and allows to manage them through the Admin Panel; distributes updates. Update of antivirus databases on computers of organization is centralized and does not require a separate PC to be connected to the Internet. All updates on PCs from the network will be received from the server side of anti-virus
The client part – programs that are installed on each of the protected PCs directly, performing the functions of anti-virus protection and others. As a result, work computer of the network of organization will be protected by the product of "Internet Security" class with daily virus databases updates, ensuring complete users protection from all types of cyber threats.
Antivirus – can detect and neutralize malicious software on user's PC. Items falling under the examination: the files on hard disk, USB-drives, operative memory, e-mails.
This module is a basic of entire system of security that is based on a Zillya! Antivirus for Business. A unique feature of this module is the availability of modern, updated every day, virus signature database. It should be noted that these data do not overload any server or local PC, since the base is optimized and modernized. Thus, work with it does not affect the speed of the central computer and, especially, local workstation and does not lead to hanging downs or slowing of PC.
The firewall – controls access of installed on computer programs to the network to setup advanced options. Two modes are available: automatic and interactive (with the possibility of independent processing of each application).
The presence of firewall in a modern version of corporate antivirus is a critical necessity. This module can significantly reduce the possibility of infection by malware while surfing the Internet. In addition, the firewall blocks the action of malware that might get on workstation in case of unauthorized attempts to upload information from the Internet to receive other harmful components, fraudulent or new spyware.
Web Filter – controls access of PC to the set online resources: a centralized list of undesirable sites.
The module allows to create own "black lists" of undesirable Internet resources containing questionable or frankly objectionable material. Web Filter can also be used as an important part of anti-phishing security system built on databases of known spyware sites or suspicious resources that may be involved in fraudulent activity.
USB-protection – checks flash drives for viruses, analyzes the likelihood of infection of carrier and offers scan on demand.
Checking USB-drives still remains an important aspect of a total cyber security because they are possible carriers of malware. USB-protection module integrated into Zillya! Antivirus for Business scans USB-devices connected to the computer for the presence of malware and prevents them from entering into the secured PC.
Minimum system requirements:
 
Processor Speed – 1 GHz and more;
RAM – 1 GB and more;
Hard disk space – 1500 MB;
Operating System – Windows XP (SP2, SP3) (32-х і 64-х), Windows 7 (32-х і 64-х ), Windows 8 (+8.1) (32-х і 64-х), Windows Server 2003 (32-х і 64-х), Windows Server 2008 (32-х і 64-х), Windows Server 2012 (32-х і 64-х), Windows 10 (32-х і 64-х), Windows Server 2016 (32-х і 64-х), Windows Server 2019 (32-х і 64-х), Windows 11 (32-х і 64-х).
​Version of the program: 1.1.5084.0